Dear Ahsaas Channa,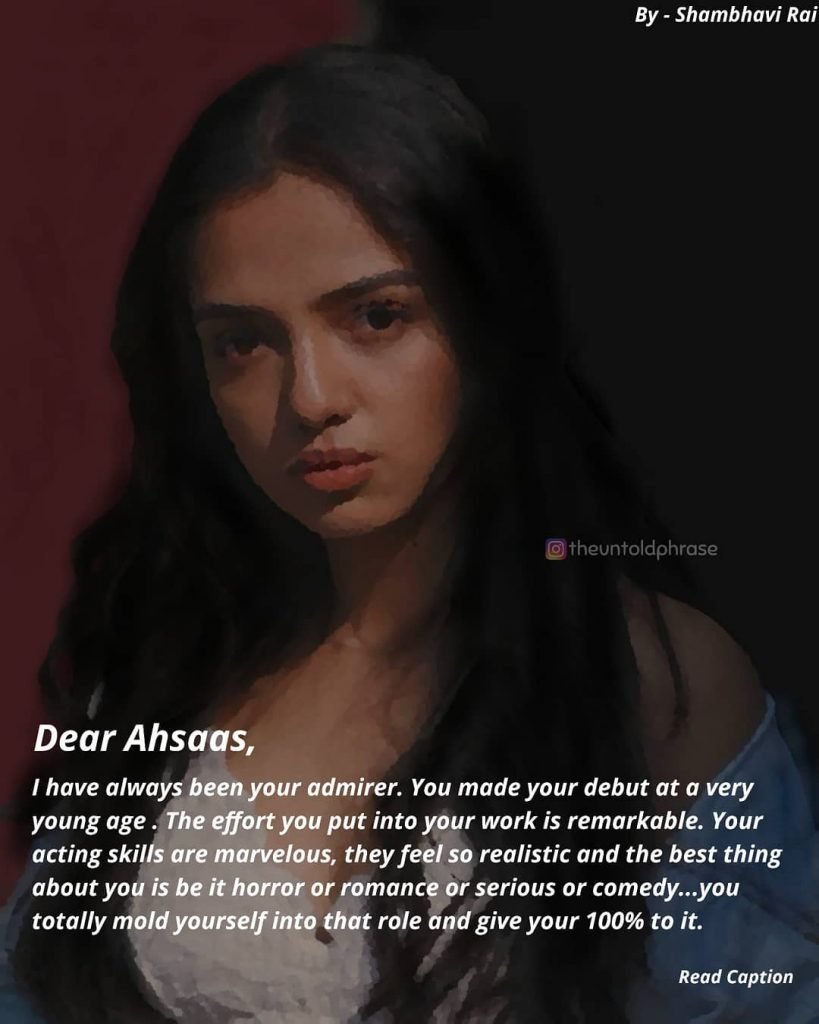 I have always been your admirer. You made your debut at a very young age and did the role of a male protagonist. Starting from "Vaastu Shastra" where you played Rohan,
Ashu in "My friend Ganesha" and
Arjun from "Kabhi Alvida Na kehna" .
You did three totally different genres; horror, cartoon fiction, and romantic. You are so talented and so breathtakingly beautiful. You rocked each role and you were one of the cutest child actor admired and loved by everyone.
The journey of that cute little kid with boy-cut hair to a grown-up beautiful woman is so fascinating. And let me tell you girl, your smile is heartwarming and you resemble a sunflower.
The roles of victims you play in "Crime Patrol" make your audience sympathize and connect to the character and your videos of "Filtercopy" and other web series are just my favorite and are on my 'all-time watch' list.
The effort you put into your work is remarkable. Your acting skills are marvelous, they feel so realistic and the best thing about you is to be it horror or romance or serious or comedy…you totally mold yourself into that role and give your 100% to it.
Even after starting as a child actor, you had your own charm. Starring with the thrilling beauty and one of the most talented female protagonist Sushmita Sen and working with legends like Amitabh Bachchan, SRK, and many more. You didn't even flinch or hesitate. You were able to leave your print in the minds of your audience.
Even if I have never met you, you seem so welcoming and down to earth.
Ahsaas, just like your name you make us feel the rollercoaster of emotions. Whenever I see your name "Ahsaas Channa" on the cover of a video, it's definite that I am going to watch it and I never regret it because your work is THAT awesome.
And will it be weird if I tell you that I stalk your Instagram profile every day more than ten times without fail? You are so creative and I fall short of words to express what I think of you.
You have come a long way and you have a long way to go. Keep entertaining us you cute little cupcake.
– Shambhavi Rai ( @_lovehind_loveblind_ )
Also Read :
Ritvik Sahore, the stellar performer
Ayush Mehra, the star of OTT platform